Keyword Research for SEO: A D.I.Y. Tutorial
Solid keyword research is the first step towards successful search engine optimization (SEO). In this do-it-yourself tutorial you will acquire the skills to find ideas for keywords, create keyword-lists, and sort phrases by their average monthly search volume. The target is to identify the most important keywords of your industry. This knowledge is valuable for optimizing your website. The next D.I.Y. tutorials will explain how to do that as well!
Content overview
How To Do Keyword Research for SEO
The exact requirements for keyword research depend on various factors, such as your industry, your geographic location, and the structure of your website. If your business has a lot to offer, it may be best to conduct the keyword research in several separate steps. It is also possible to research keywords just for one particular landing page, for example for a blog post or a product in your web shop. This tutorial teaches you the basics for any kind of keyword research.
As an example, we use the business of a fictious saleswoman who wants to sell cat food online. She owns a brick-and-mortar store in Portland (Oregon) and the structure of her website is still open to discussion.
The first keyword research aims to identify the most important keywords for her industry and location. Those keywords will later provide important hints for the structure for the website. The example has been selected to be as general as possible, so that this tutorial can be applied to many different situations.
How To Find Keywords: Step #1
The first step is to collect keyword ideas and create a keyword list. This list will later be useful to evaluate the most important search phrases.
To get started on the keyword list, we create a new document with three columns. The column at the center (column 2) will contain keywords that concern our businesswoman's product range – in this case, cat food. So we are looking for expressions (including synonyms) that describe her products:
Keyword examples column 2
cat food
food for cats
wet cat food
dry cat food
wet food for cats
dry food for cats
…
We continue with the first column. For this column, we collect words that would appear in front of the word in column 2 as a search expression. Hence, we are mostly looking for adjectives and brand names that further specify a product, as well as for verbs that further specify the intention behind the search phrase:
Keyword examples column 1
buy
organic
natural
brand name #1
brand name #2
…
Please note that real brand names have been excluded from the example, although in practice they should of course be included.
For the third and last column, we think about words that could be added after the expressions in column 2. For example, those words can serve as a means of regional specification or to complete the search intention:
Keyword examples column 3
online
in Portland
in Oregon
near me
free shipping
…
SEO Tip: How to Find Ideas for Keywords
Google auto-complete can provide clues and ideas for your first keyword list. Simply type a keyword from column 2 into the search-box and look at the recommendations. The Google Ads managing tool offers a special function dedicated to find new keyword ideas. You can access it via the Google Keywords Planner.
How To Make a Keyword List: Step #2
To create the keyword list, we combine all keywords from the three separate columns with each other. If you don't want to lose time with copy-and-paste, I recommend using this keyword list generator.
In the tool, we paste the keywords from our first two columns and generate a list that we copy to the master list. Then we delete the first column and instead paste the keywords from columns 2 and 3 into the tool. Again, we create a list and add it to the master list. Finally we restore the keywords from column 1 and create another list with the combinations of all three columns, which we also copy to the master list.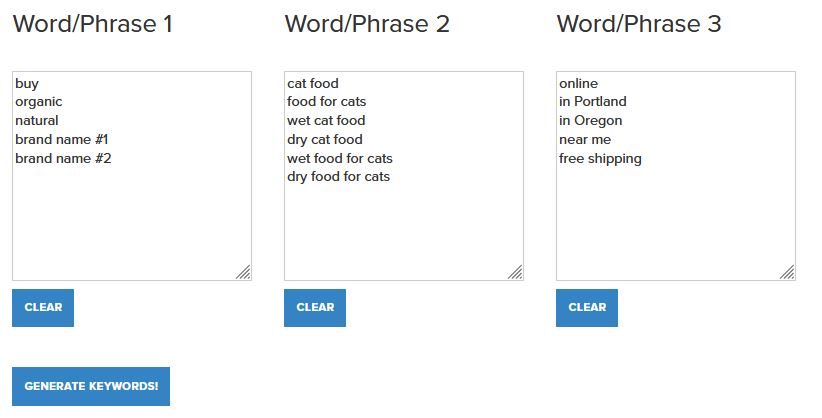 Now we have a large master list that we simply save as a text file (.txt). The list with the examples from above contains more than 200 potential search phrases – but in real life the list might be much longer! Naturally, some of the keyword combinations will be nonsensical. However, we don't need to worry about that because we will automatically evaluate the list and can ignore nonsense phrases.
Important: You should additionally include the keywords from column 2 in the master list (without combinations)!
Find the Search Volume for Your Keywords: Step #3
The next step is to evaluate the average monthly search volume for you keywords with the Google Keyword Planner. For that we log into https://ads.google.com, navigate to the 'Tools & settings'-menu and open the Keyword Planner. Then we chose the option 'Get search volume and forecast'. Now a text box will appear. We can past our keyword list into it:
Please note: A limit of 1,000 keywords per query applies. If your keyword list exceeds that number, you should split it into several text files with each less than 1,000 rows. Later, the results of the separate queries can be combined.
After the Keyword Planner has gathered all the data we want, we can sort the list according to the average monthly searches. In our example, the upper part of the table now looks like this:
At this point, we can already see some of the most important keywords for our example's industry and location.
The 'Competition'-column provides hints on how costly it would be to place Google Ads for those search expressions. The data can be exported and analyzed in Excel, for example as a .CSV-file.
SEO Tip: Alternatives to the Google Keyword Planner
The Google Keyword Planner will only provide you with exact data on the average monthly search volume if you have a Google Ads campaign active. If you do not have an active campaign, you will only receive limited data such as '10-100 avg. monthly searches', '100-1,000 avg. monthly searches', etc.
There are many other tools that can be used as an alternative to the Keyword Planner, although most of them also have restrictions (e.g. daily limits). If you don't place ads on Google yet, I recommend the keywords search volume tool from searchvolume.io to gather data on the search volume.
SEO Tip: Settings for Language and Region
In the upper part of the Keyword Planner you can limit your request to certain regions and languages. In the example, we have gathered the data for the entire United States. This, however, could be further specified to only include search traffic from Oregon; or it could be expanded to include search queries from the entire world.

Hint: In the left-hand area of the Keyword Planner your can look for keyword ideas and add them to your list!
Semantic Mapping: Step #4
Once the keyword research is completed, we can allocate the most important keywords to different landing pages. I recommend creating a spreadsheet with the structure of your website to get started. In the spreadsheet, you can assign certain keywords to certain pages – e.g. your front page, category pages, product pages, etc. – and optimize those pages accordingly.
The most important indicators for the keyword mapping are relevance and search volume.
Looking back at our example, we could consider creating separate landing pages for "natural cat food", "organic cat food", "buy cat food online", and so on.
The semantic map is the basis for the structure and content of a website or web shop. In the next DIY SEO tutorial, you will learn the basics of on-page optimization!
Photo credit header picture: Kelly Sikkema (edited by J.C. Zeller)