j.c. zeller // Deutsch

Journalism | SEO | Media Consulting
Experience | Skills | Areas of Expertise | Samples | Partners, Friends & Clients | Get in Touch!
Journalism Out of the Comfort Zone
| | | |
| --- | --- | --- |
| NO MOUNTAIN TOO HIGH | NO ALLEY TOO DARK | NO JUNGLE TOO WILD |
I am full-blooded journalist with 15+ years' experience who simply loves to explore exciting stories right where they happen and share them with the world. As an avid traveler, I enjoy discovering new places and I'm never afraid to step out of my comfort zone. I'm at ease in new environments and I always do what it takes to get right to the core of a topic. And yes — I don't mind being contacted by publishers who are looking for a talented writer to look into a particular subject. If you can cover the expenses, I can cover the story ;-)
View some Samples of my work or find out about my Skills and Areas of Expertise.
Search Engine Optimization with 12 Years' Experience
As a digital native, I have known my way around new media ever since I hijacked my mom's phone line for my first modem connection back in 1995. For 12+ years I have helped my valued clients to optimize their websites and improve their rankings through target-oriented SEO, spot-on keyword research and high-return link building. Being an e-commerce entrepreneur myself, the backend of WordPress / WooCommerce is no stranger to me. Due to my background in programming & web development, I am the perfect match for creating professional SEO solutions together with your coders and designers. Short on staff? Don't worry, I'm connected to a wide network of creative people in all branches. No matter whether you are a startup, NGO or well-established company — I will ensure the best visibility for your business, product or project.
Learn about my favorite projects and get in touch with me to improve your rankings today!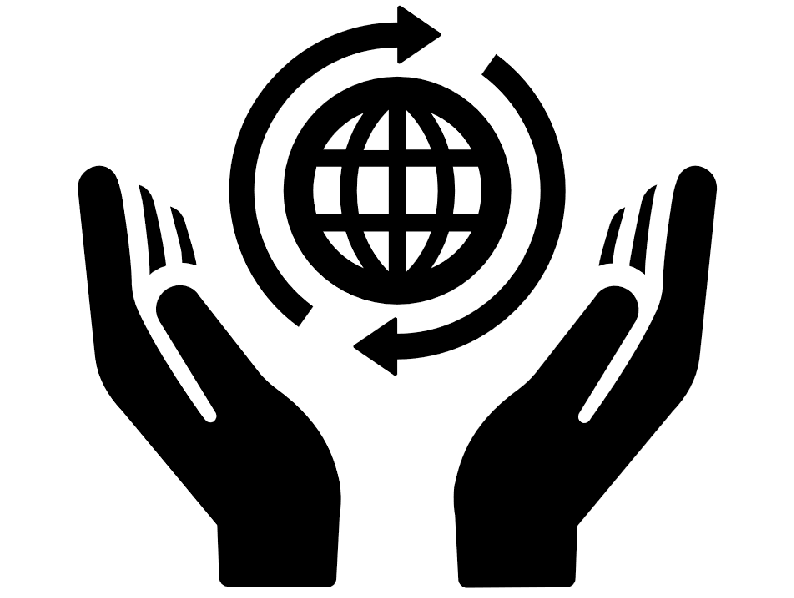 Strategic Media Consulting for Those Who Aim High
Besides my work in Journalism and SEO, in recent years I have dedicated a lot of time to providing individual and strategic media solutions for my clients. From precisely targeted ad-campaigns and high-impact social media strategies to hands-on PR crisis management; from phrasing clever press releases to establishing first-class contacts to newsrooms all over the world — when it comes to finding the best possible media solutions, I am the man with the plan. As an experienced and talented copywriter, I will support your Direct Response and Brand Awareness campaigns and make sure that you find the right words to stand out from the crowd. My philosophy: No aim is too high; the key is to approach the story from the right angle.
See what my clients say about my work and get in touch to find out how I can contribute to the success of your business or project!
Professional Experience
I embrace my autodidactism as well as my boundless energy, which is why I enjoy a lot of variety in my professional life. I have completed many different jobs and projects in many different fields; you can find some samples of my work here. From the radio cabin to the assembly line; from the construction site to the PR office; from the barroom to the newsroom; from organizing international ICT events to bringing punk gigs to the local community; from professional ghostwriting to refurbishing furniture ... my talents and interests are versatile and I am never afraid to take a hands-on approach to whatever project comes my way.
With respect to education, I hold a graduate degree in English Linguistics and a certificate in Media Studies, and I am currently enrolled in a Media and Cultural Studies PhD program. That being said, I'm convinced that there is no substitute for real-world learning. Therefore, I never miss an opportunity to try out new things, engage in new topics, and acquire new skills.
Find out more about my Skills and Areas of Expertise.
What Skills Make Me Special?
I'm an experienced climber and possess critical thinking skills; I always find a (creative) solution; I can navigate with the help of the night sky; I know my way around a DSLR — and a Glock; I am fluent in English and German, yo también hablo Español; I can drive literally any car; I know how to code (C#, C++, PHP...); I hold the Cisco CCNA Certificate 1 + 2; I've got a green thumb; I will wipe the floor with you at MTG; I can fix your computer, be a decent opponent in chess, and train your pets to become ninjas; Photoshop!; my Tetris high score will make you blush; I am equally confident on a snowboard as I am on a horse; as a well-read smart ass, I can contribute to a discussion on almost any given topic; I can catch fish without a rod and cook on an open fire... — give me a Leatherman and I will survive in any environment! ;-)
That being said, I also consider myself a decent writer, strategic thinker and media creative.
Any Can't-Do's? Dancing.
Areas of Expertise
(i.e. I will talk about these topics until you beg me to stop )
Punkrock! (and other music that's not Pop); Crypto Currency & Blockchain Technology; American Literature; Sociolinguistics; Street Culture; Independent Cinema; Cryptic Crosswords; Successful Social Media Advertising; Critical Discourse Analysis; Communication Science; FTL & CK2; Utopias & Dystopias ...

...and obviously Media and SEO ;-)
More Topics!
(i.e. other stuff I'm interested in, although I wouldn't consider myself an expert)
Social Entrepreneurship; Evolutionary Psychology; Expansion of the Mind; Social Engineering; Reptiles; Artificial Intelligence; Astronomy and various other branches of Physics; Woodwork; Technology; Probability Calculus; Photography; Scientific Skepticism; the Psychology of the Irrational; Sustainable Energy; Cooking; Good Sci-Fi; Existentialist Philosophy; Epicureanism; Beer; the Visualization of Data ... and many more!

As a professional (ghost-)writer, I have written about almost everything from Transcendentalist Poetry to Mechatronic Systems Engineering and I pride myself in always managing to uncover the most interesting aspects of a topic.
Samples of My Work
Below you can find samples of my work as a journalist and copywriter. Due to reasons of confidentiality (I have signed A LOT of NDAs!) I cannot recap most of the projects to which I have contributed as an SEO Expert and Media Consultant. However, I would be happy to give you a better idea about some of the mind-blowing strategies I've employed in a face-to-face conversation :) Just get in touch.
The Sensitive Algorithm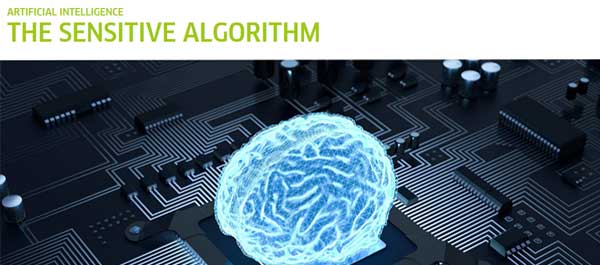 [Article via Goethe.de // English | German]


Paint Thicker Than Blood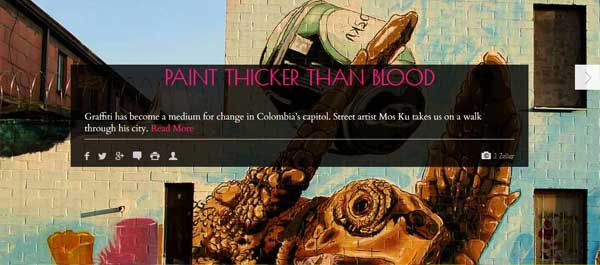 [Article via Tea After Twelve // English]


Blockchain: A Chain Without a Weak Link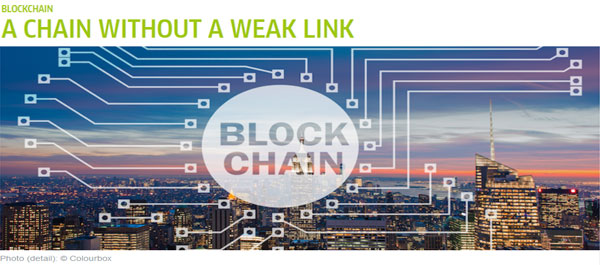 [Article via Goethe.de // English | German]


Why It's Important Your Child Starts Learning a Second Language Early On



[Guest Blog via voiceBoks® // English]


Dreams Rewired - Every Age Thinks It's the Modern Age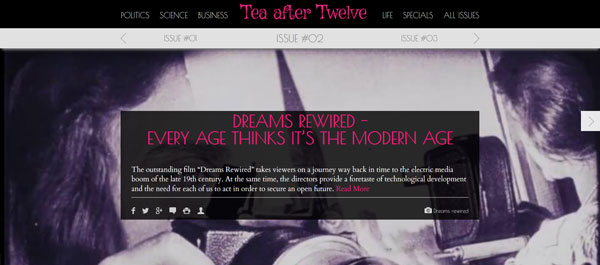 [Review via Tea After Twelve // English]


Bavarian for Rebellion: The Trikont Label Turns 50



[Article via Goethe.de // English | German]


'The Misfit Economy' - Business-Advice from Pirates and Gangsters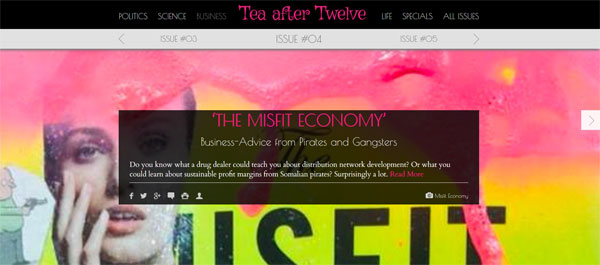 [Review via Tea After Twelve // English]


Humanoid robots knocking at the door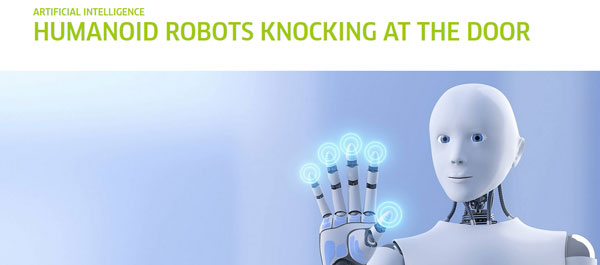 [Article via Goethe.de // English | German]


The Sex Appeal of Success



[Guest Blog via High Style Life // English]


Turning Moss into a Living Power Plant



[Article via Tea After Twelve // English]


Konkurrenz für BBC, CNN und Al Jazeera



[Cover Story for Medianet // German | PDF]


Neuromotus: Improving Lives of Amputees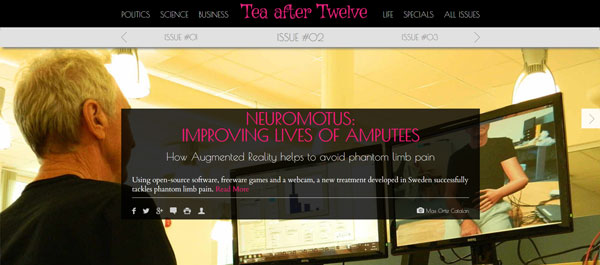 [Article via Tea After Twelve // English]


Die Google-Suche nach dem Sinn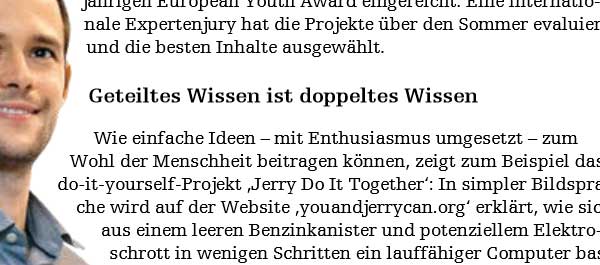 [Op-ed via Medianet // German]


20 Jahre Mardi Grass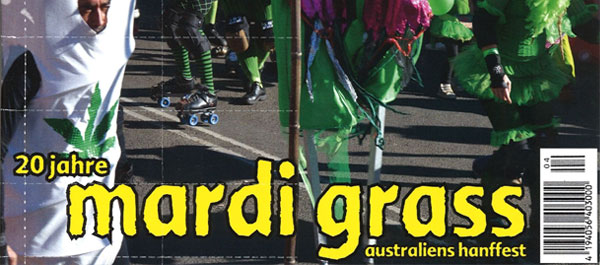 [Cover Story for Grow! Magazine // German]


...and this is what CEOs, editors and other professional acquaintances have to say about my work:

"THANK YOU! There are still tears of emotion and blissful bewilderment in my eyes: Finally a text that doesn't mean any work for us! Thanks!" - Sarah K., Editor-in-chief

"I want to thank you once more for your great work. In my opinion, it's by far the best feature on our movie that has been published so far." - Martin R., Filmmaker

"We will print this text in poster-format and put it behind a golden frame - it sounds simply fantastic :)" - Peter K., Entrepreneur

"Thanks a million - your response to this crisis was invaluable. (Revise that to read: YOU are invaluable.)" - Sandra P., Medical Director

"Many thanks for the stories; they are a spectacular fit for our upcoming focus issue." - Sabine B., Editor-in-chief

"I want to thank you personally for the realization of our new website, without your commitment none of this would have been possible. Amazing work, really!" - Tom N., CEO

"Hey Johannes! You're a genius - the new ads are taking off madly :)" - Steve K., Marketing Manager

"I love the article. You do not see that kind of honesty often these days and it is really refreshing. I shared it too." - James B., Blogger

"Yes, Johannes, what a great way of handling this crisis... I'm impressed :-)" - Dr. Peter S., CEO

"What an incredible article. Great work. Everything fits together and it creates exactly the trust that we need." - Carl K., PR Manager

"Really nice work, Johannes. Thanks so much for your interest and for sharing our story!" - Prof. Bill L., Medical Researcher

"Thank you, thank you, thank you! Your three articles turned out great. Our proofreaders love them as well!" - Karen D., Editor-in-chief

"Congratulations from a good-humored newsroom - you got us a lot of attention with that story! :)" - Kurt F., Editor-in-chief


Get in Touch!
Mag.phil. Johannes C. Zeller
Journalism, SEO, Media Consulting

Homebase: Styria, Austria

Current location: Andalucía ☀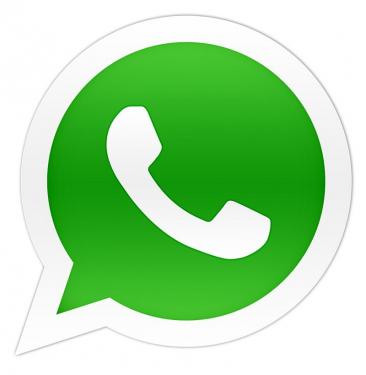 +43 664 42 63 151

E-Mail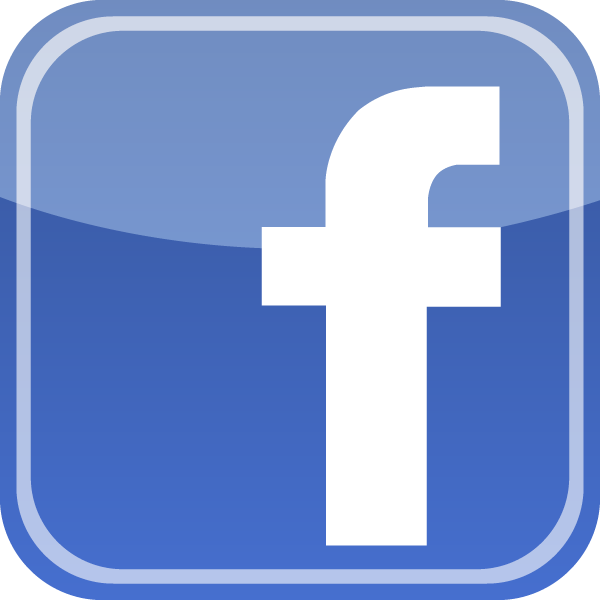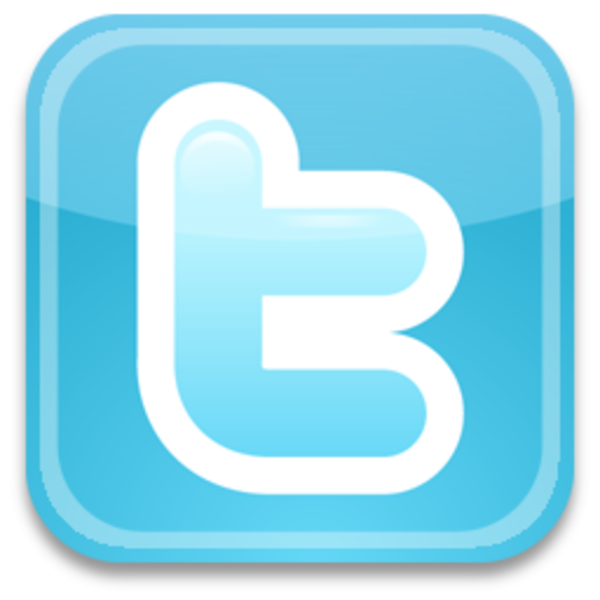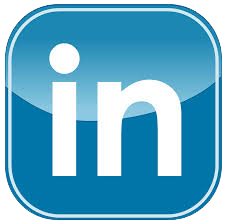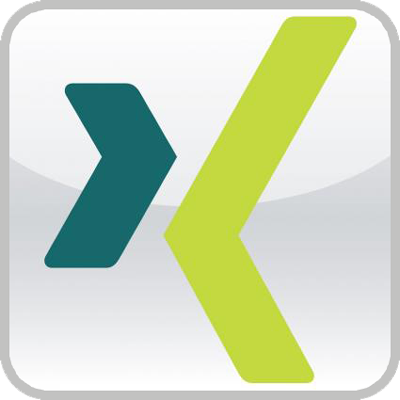 UID: ATU68525928

Photo credit header pic: Nick de Partee // Unsplash.com

Icons by mikicon, Hea Poh Lin, Gan Khoon Lay & Gregor Cresnar // The Noun Project

Disclaimer

This website has been created with Microsoft® Notepad (srsly!).